(PLO)- "Exploding" that there are many relationships, making land records quickly, Bo Nhu Phong has cheated tens of billions of people's dong.
On July 18, the Public Security Bureau of Binh Duong Province issued a notice to find victims related to the case of fraud and appropriation of property by Bo Nhu Phong (40 years old, living in Ben Cat Town, Binh Duong) presently.
According to the investigative agency, in April 2023, the Phu Giao District Police prosecuted the case, prosecuted the accused and detained Bo Nhu Phong to investigate the crime of fraud, appropriating property and forging, using fake documents of agencies and organizations.
Many people fell into Phong's trick. Photo: CACC
During the investigation, it was determined that Phong had defrauded many people with the amount of about 10 billion dong. Therefore, the Phu Giao District Police have transferred the case file to the Binh Duong Provincial Police to handle according to its competence.
The investigative agency said that Phong set up a "trap" by introducing himself as a "stork" specializing in paperwork, knowing many officials, so he easily and quickly completed legal procedures on land.
Many people gave Phong a large amount of money to ask him to do land procedures. However, when receiving the money, Phong took the money to spend and cut off contact.
In addition, to create trust to easily cheat money, Phong also forged many records and papers.
Binh Duong Provincial Police have informed that any organization or individual that is Phong's victim has the above information, please contact the Police Department of Binh Duong Province Police, address 681, CMT8 Street, Chanh Nghia Ward, Thu City. Dau Mot, Binh Duong province, phone number 0961.127.979, meet with investigator Thai Huu Thanh for guidance.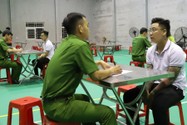 Prosecution of 16 people who cheated to sell beauty products and appropriated 100 billion VND
(PLO)- This group set up companies and opened 8 branches in the provinces and then ran ads on social networks for sale products pretending to treat melasma, appropriating a lot of people's money.
LE ANH